Another piece of Tamworths heritage is about to disappear and no one seems to have noticed. Hickson Brothers Crown Garage on Victoria Road is about to be redeveloped with six houses to be built on the site.
The garage was originally a first world war aircraft hanger which was re-assembled on the site where the brothers who started as haulage contractors ran luxury coaches and Charabancs,they later moved to a site opposite the Jolly Sailor inn (another piece of destroyed heritage) on the Bonehill Rd (now the Co-op garage).
This hanger must be virtually unique as very few hangers where built during the first world war and very few can have survived. It also pre-dates the R.A.F. being an ex Royal Flying Corps hanger.
Photo taken from "Around Tamworth in old photographs" by Richard Sulima.
The hanger does now appear to be fairly run down and I admit that I do not know how much of it is original but it does seem sad to just pull it down. I have contacted R.A.F. Cosford about it but they do not wish  acquire this building for the Museum so unless anyone can think of another museum who might be interested its fate seems certain.
The same view today.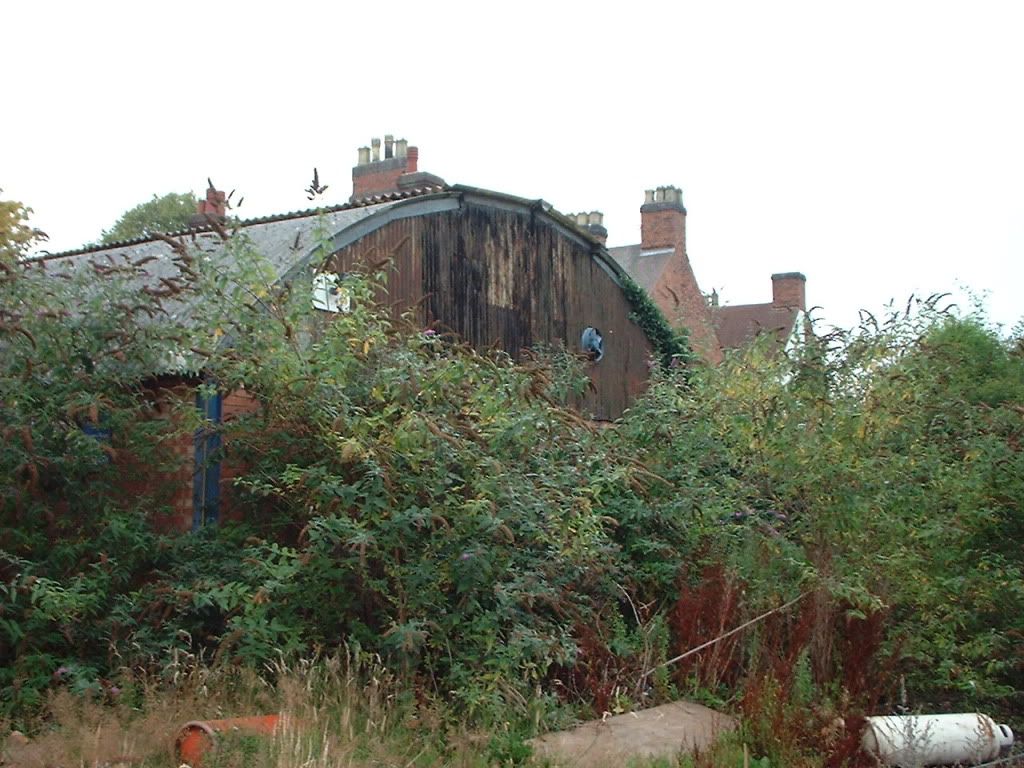 The vegitation makes it difficult to get a good photograph.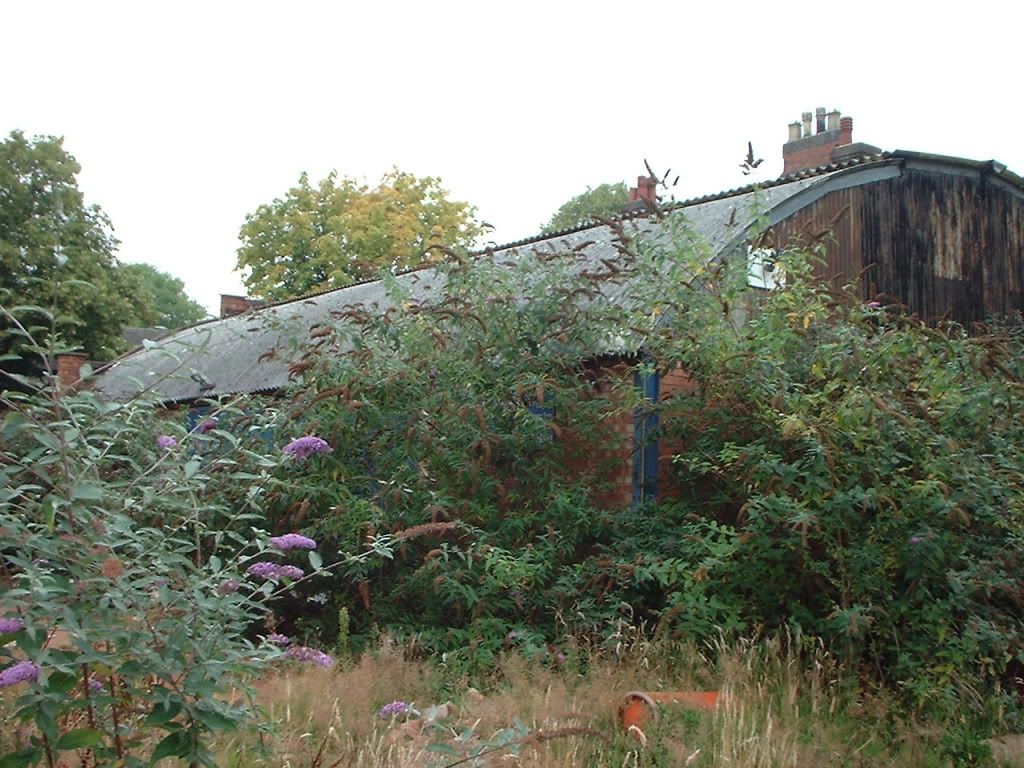 It will be such a shame to loose this building.
So please put Your thinking caps on and see if You can think of anyone who might save it.
Places at events for people to have their say on how Tamworth Borough Council sets its budget are filling up fast, and people are being urged not to miss the chance to have their say.
A number of special sessions have been set up so people can let the council know where they think how – and where – money should be spent.
The workshop-style events will take place on September 2nd, between 10am and 12noon. Additional evening sessions are now taking place on September 5th and 8th, which start at 6.30pm. All three events will take place in the council offices, Marmion House. An online survey will also be launched at the same time, to coincide with these meetings.
The idea behind the meetings is to get people involved is to make sure – where possible – the borough council can set its priorities inline with what people would like to see. In addition to the budget consultation sessions, the blog is now open for general comments – this can be found via the council's website: www.tamworth.gov.uk.
Councillor Daniel Cook, Leader of Tamworth Borough Council, said, "We want to make sure we are funding work and projects which are important to people living in Tamworth. By getting as many views as possible, we can get a much clearer idea about what is important to people living in Tamworth."
By getting involved, you can get play a role in helping to form spending priorities for the coming year.
Focus groups are being held at Marmion House on:
Friday 2nd September, 10am-12noon and 2pm-4pm
Monday 5th September, 6.30pm – 8.30pm
Thursday 8th September, 6.30pm – 8.30pm
To get involved in the focus groups please contact Charlotte-green@tamworth.gov.uk, 01827 709570.
Preparations are well underway for this year's Tamworth Beer Festival – and a number of ales will be celebrating the Staffordshire Hoard.
The festival is once again being organised by the Lichfield, Sutton and Tamworth Branch of CAMRA, and takes place on September 8, 9th and 10 at the Assembly Rooms.
With more than 100 real ales, ciders and perries on offer, many of this year's beers will have a Staffordshire Hoard theme to celebrate the gold being on display at Tamworth Castle.
Offa's Sword, Golden Chalice, Black Gold and 'Medal' detector, along with the official Staffordshire Hoard beer brewed by Backyard Brewer, will all be available at this year's festival.
The Beer Festival has also had special commemorative half-pint glasses made for this year's event, which will also celebrate the Staffordshire Hoard.
Last year's festival saw more than 1,500 visitors, drinking more than 7,000 pints of ale and cider during the festival.
This is the 19th beer festival to take place in Tamworth and this year promises a wide range of ales, with something to suit everyone.
The Beer Festival will open its door at 11am on Thursday September 8. Entrance prices vary throughout the event, with free admission for CAMRA members.
The beer has been chosen from micro breweries from as far as field as Scotland and Cornwall, to local breweries, such as festival favourite Church end, which is based in North Warwickshire.
Geoff Cross, Tamworth Beer Festival's chairman, said:
"This year the beer festival will be celebrating the Staffordshire Hoard being on display at Tamworth Castle; we have had a number of beers specially brewed in honour of the gold's visit to Tamworth.
"We are hoping to attract as many as 1,500 people to the beer festival. Once again we will be offering a wide range of beer from across the country – many of which are being brewed especially for us and will not be on sale anywhere else."
Geoff added:
"It is great to be back at the Assembly Rooms – every year it just seems to get better and better. I am really looking forward to welcoming our regulars back but also those who are new to real ale. "
The festival will once again feature 'festival specials' and many new ales; all being kept in prime condition by a cask cooling system. There will be entertainment on the Friday and Saturday night.
Money will also be raised for St Giles Hospice.
Staffordshire County Council is marking Heritage Open Weekend with some fascinating free events for all the family.
On Saturday 10 September from 10am to 4pm, the Shire Hall Gallery will be inviting people to take a look around the historic courtroom, with the chance to meet representatives from Stafford Crown Court to learn more about crime and punishment past and present.
Mike Ford, a retired court artist will be on hand to talk about his career, show some of his work and even demonstrate his skills on some of the visitors. There will also be the chance to try on wigs and robes and a rare opportunity to sit in the judges chair.
Discover your heritage with a visit to County Buildings, the home of the county council, widely acknowledged to be one of the finest late Victorian buildings in Staffordshire. Completed in 1895, it was considered a very modern building for its day, containing a number of innovative ideas. These include being the first major Staffordshire building to have electric lighting and possibly the world's first air conditioning system, still in use today.
Visitors are invited to ascend the magnificent Victorian staircase and take a look inside the upper rooms, including the Oak Room, the White Room and of course the Council Chamber itself, said to have been inspired by the Palace of Versailles. The County Buildings are open on Saturday 10 September from 10am to 1pm and Sunday 11 September from 10am to 4pm.
Cabinet Member for Culture, Communities and Customers, Pat Corfield said: "Heritage Weekend in Stafford is a golden opportunity to learn more about important periods in our nation's history. All the events are free of charge and with access to buildings not usually open to the public, these events mean everyone can come along and get a real insight into our shared heritage."
For more information please telephone 01785 854458 or visit the National Heritage Open Days website
Tamworth will be throwing open the doors to its historic buildings completely free of charge during Heritage Open Days.
With more than 50 events, taking place over the weekend of September 10th and 11th there will be something for everyone. Tamworth has taken part in the national event for a number of years and has always attracted big crowds.
Visitors and residents will have the chance to see a different view of Tamworth as the library will be holding roof top tours. Tickets need to be booked in advance. The library will also be hosting a special Saxon exhibition.
Midland Red will provide a special bus service between Tamworth and Middleton Hall. Visitors to the hall will be able to see the Peel Collection and Police Museum. Advance bookings can be made at the TIC in Corporation Street.
St Editha's Church will be running guided tours and opening the double spiral staircase for visitors to enjoy panoramic views of Tamworth from the rooftop. The Town Hall and Mayor's parlour will be open to the public. There will be a Colin Grazier display during the weekend and Tamworth Football Club will also be hosting a special event.
And during this time, the Staffordshire Hoard will be on display at Tamworth Castle. Tickets for the timed tours need to be booked at the TIC.
Other events include; a look back at the history of the Assembly Rooms, talks from historians, the French market, craft markets, a heritage display by the Friends of Tamworth Castle, tea and cakes at the Alms Houses and the Central Methodist Church will be holding an exhibition.
For a full list of events taking place, either visit the TIC in Corporation Street or visit Tamworth Borough Council's website: www.tamworth.gov.uk. To help visitors make the most out of the Heritage Open Days, there is now a brand new iphone app that can be downloaded from iTunes. It has an interactive map and a whole host of information about Tamworth.
Campaigners wanting to stop the Governments proposal for high-speed rail (HS2) have had to start their petition from scratch due to the Government relaunching their official e-petition website.
Prior to the last election, David Cameron promised that under his leadership, any petition getting over 100,000 signatures would receive a parliamentary debate. Over the last year, Stop HS2 has done that and collected the 100,000 signatures required to trigger a parliamentary debate via their online and printed petitions. However, on August 4th the Government relaunched their official online petition service, declaring that petitions administered via their website would be the only ones recognised. The new Stop HS2 petition can be signed via the Stop HS2 website at www.stophs2.org.
Stop HS2 Campaign Coordinator Joe Rukin said, "Up to the end of the public consultation, actions groups across the country had been holding various events and having stalls where they got people to sign our paper petitions. When the consultation finished, we called in all of these, and while they are still coming in, it quickly became clear that when they were added to the total for the online petition that we would have the 100,000 we needed to get a Parliamentary debate and were preparing to hand them in when Parliament returns in September."
"Then just as the consultation finished, the Government reintroduced their own online petition service, stating that they would only recognise petitions on this website, meaning we have to start all over again. It's a real pain as not only will many people believe they have signed, so won't do it again, but also it is clear from feedback we've had at stalls that many supporters don't have internet access or an email address which is needed to verify signatures. It's annoying that we've got to start all over again after all that work, especially as the website keeps breaking down, but we are confident we will get the numbers in the timeframe."
This short demonstration video shows the user how to use the new 'Tamworth Heritage Trail' iPhone App. The App was launched into Apple's AppStore on June 30th 2011. The App is free to download. For more information, contact antony@emerald-design.co.uk


Once again We have a Queens Head Mystery, this time it is to find out the identity of the two ladies working behind the bar in possibly the 1950s or 60s.
Looking at the photos We think they where taken in what is now the bar and the door on the right is where the entrance to the kitchen is now.
Does anyone know what the strange white thing with a bottle in it is in front of the beer pumps, Whatever happened to the tiled bar top and when did You last see Pewter Tankards hanging up in a pub.
If You have any idea who these two ladies are or what the strange white thing is please let us know so that We can tell everyone else.
                               Result
I would like to thank Frank Clark who contacted Me to identify the two ladies in the photographs He wrote
"The ladies in the photos. (the queens head mystery). the first photo is Millie Clark (my mother) the other photo is again Millie Clark and the landlady of the pub. Winifred Cook.
the box on the bar was for customers to put a donation in and then fill their cig. lighters with fluid in the bottle the photos taken about 1958/60."
Thanks for the information Frank.
I noticed today that private (not council) contractors where working on the island at the top of Peelers Way.A few days ago the island changed with some railway sleepers being added to the middle and today a boat has been added to advertise Tamworth Sea Scouts.
I think the island looks rally nice now but have to question the logic. Its not that long since the council wanted to add something like a Reliant car to and island and had all sorts of abuse thrown at them by the general public.
I still think adding two Reliants would be a good idea as they are part of our heritage (The Tamworth Two) possibly a Robin and a Kitten but they would have to be up high to avoid vandalism , where as this boat is on the ground! How long will it be before it is stolen or vandalised? 
Well anyway good luck to the sea scouts and I hope it lasts long enough to recruit some new members ,unlike when I was a teenager and desperately wanted to be a sea scout,even visiting the Navy Club for details only to be told that Tamworth didnt have a Sea Scout movement? Still that was in the 1970s.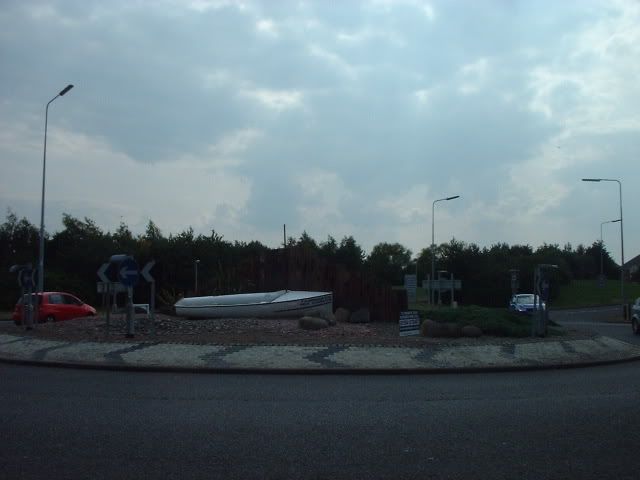 Wow I went past again today and the boat looks fantastic now the Sea Scouts have filled it with flowers.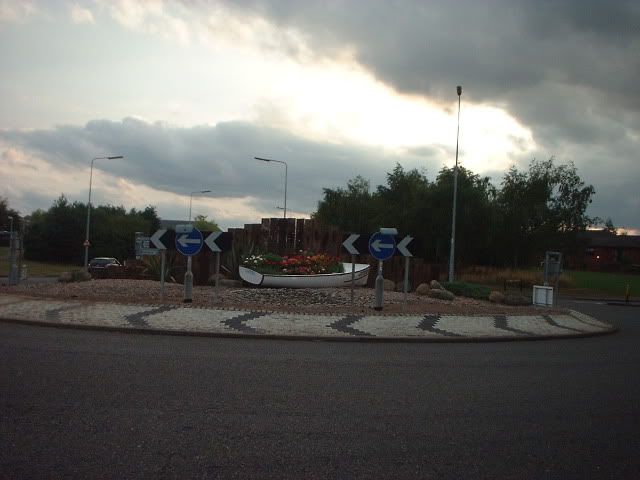 Scammers are calling and using several ways to try and get your bank details.
They may say that a new VISA Card has been sent to you and they are just checking that your details are correct or that you have got a refund from the protection service dealing with your credit or debit card. Don't give any details out over the phone or on-line.
A team of so called Gutter Cleaners are in Tamworth. They take your money and don't do the job or take muck out of your gutter and throw it on the road.
Don't use any cold calling company. If you need your gutters cleaned, they call a local business in the telephone book. If however if you see these rogue traders please take down the number plate of the van and call the Trading Standards Rapid Response 24hr number: 07773 792 252.