I came across this interesting article about one of our former Mayors recently

WHILE strolling through the Aldergate 'Garden of Rest' in Tamworth town centre a couple of weeks ago, I chanced to spot the broken remains of a grave marker bearing a name I'd come across during research for a recent Herald 'look back' column.
Situated close to a perimeter wall and flanked by grave markers in equally depressing states of repair, the grey, rectangular slab is all that remains of what must once have been an imposing stone monument.
But although quite faded, the inscription, 'William Tempest who entered into rest August 8, 1911, aged 81 years', leapt out at me.
Was this the same William Tempest whose remarkable obituary I'd come across only a couple of days previously as I looked through a 100 year old copy of the Herald?
It clearly was.
But who was William Tempest? And what does this smashed remnant, carelessly dumped in a corner of the old burial ground, say about us?
Upon re-reading the Herald of August 12, 1911, one thing was for sure. When William Tempest died... everybody in Tamworth knew who he was.
Three times Mayor of Tamworth, his obituary is the story of a seemingly indefatigable man who devoted most of his adult life to the wellbeing of the people of this town.
"We deeply regret to have to record the death on Tuesday of Alderman William Tempest, at his residence, Mayfield, Tamworth", began a black framed funereal tribute in the Herald of August 12, 1911.
"During the last few years he had on two or three occasions suffered from illness, but his recovery was fairly rapid, and when just over three weeks ago he again became ill there were hopes that once more he would be restored to health.
"On this occasion, however, his illness was primarily due to enteric fever, to the effects of which his strength was unequal, and he passed peacefully away at a quarter to one o'clock on Tuesday."
After noting the events of his passing, the mood of the piece becomes lighter as the Herald records with pride and enormous admiration the life of Alderman Tempest who, it said, 'had been actively associated with all local movements for upwards of 40 years'.
"He never grudged the time he gave to public work, he never shirked a responsibility when he was fully convinced that it was his to undertake, and he never feared any criticism that any action of his might provoke", stated the obituary.
The piece goes on to say that it was these attributes of his character that early gained him 'the affection, the esteem and the respect of his colleagues on pubic bodes and of the burgesses at large'.
A native of Burley, near Duffield, Derbyshire, where he was born on March 13, 1830, William Tempest was already a wealthy businessman when, in 1858, he arrived at the Lodge Farm at Drayton.
Some years later he came to live in Tamworth, and in 1870 he was first elected a town councillor.
In November 1874 he was elected an Alderman, and a few years later, on November 9, 1878, Alderman Tempest was elected Mayor and Chief Magistrate of the Borough.
The Mayoral honour was renewed to him in 1880 and again for the third time in 1900.
In the course of his long municipal career he saw the borough boundaries enlarged, the waterworks established, the Burial Board formed, Tamworth Castle became the property of the town, and the long talked of public sewerage system brought into operation
In other spheres of public work he was a co-opted Governor of the Grammar School, a trustee of the Municipal Charities, a trustee of the Rawlett's Charity, a trustee of the Tamworth Permanent Benefit Building Society, a trustee of the Tamworth Friendly Institution, a director of the Tamworth Savings Bank, a director of the Tamworth Public Cattle Sales Co., Ltd., and a director of the Tamworth Herald.
For many years he was vice-chairman and a director of the Tamworth Gas Company.
These represented the principal of Alderman Tempest's many public activities, but it was said that he was also always ready to take his share in social and philanthropic movements.
In politics he was strong supporter of the Unionist party and was also for many years a prominent member of the Marmion Lodge of Freemasons.
Despite the great call upon his time and energies in municipal work, he also took a keen interest in agriculture, and for many years he occupied the Perrycrofts Farm 'as a hobby'.
He only retired from it when advancing years left him no time to supervise its working!
In his personal life Mr Tempest was twice married – in 1851 to Miss Ann Gallimore of Kedleton, Derby, who died in 1888, and in 1892 to Miss Brown, of Tamworth, who survived him.
He had two daughters.
In a leader article published the week of his death, Herald editor William Morton wrote: "Tamworth is the poorer today by the death of Alderman Tempest. For over 40 years his has been a familiar figure among us.
"In almost every branch of our public life he was a participant – energetic, conscientious, courteous, painstaking, and ever keenly alert to the progress of the borough and the well-being of its inhabitants.
"He never attempted to shine over his colleagues; he was content to share quietly in the success that attended any common effort for the public weal; and he never unduly paraded a success before those who for the time being had been opponents.
"He was, in fact, one of the old school of public men in Tamworth who knew the power they possessed and wielded it unostentatiously but firmly once they were convinced of the justice of their case. Alderman Tempest's dignified personality was indeed wrapped up in the public life of the borough."
Mr Moreton added: "None was more prominently in the public eye than he, and none was more successful in maintaining the dignity and carrying on the traditions of the offices he held.
"To those who came frequently into personal contact with him in public work, he was ever a kindly, considerate and genial friend, and by the inhabitants generally he was regarded with great respect and esteem in the true and not the hackneyed sense of these words."
Mr Moreton concluded his piece by saying that Mr Tempest had been a director of the Herald company since its formation in 1877, and the mere mention of that fact is 'a testimony to his unwearying interest in the paper and his efforts to make it a journal worthy of the locality'.
Following a packed funeral service at Tamworth Parish Church, where he had been a regular worshipper, Alderman Tempest's coffin was interred in a brick grave at the Aldergate Cemetery.
A stone monument marked his last resting place.
All remained relatively unchanged until 1952, when the old graveyard was attacked by the 'clean-up brigade who saw nothing wrong with uprooting gravestones and propping them precariously against perimeter walls. It would allow the lawnmowers easier access to the grounds.
Many markers – lots made by local monumental masons Mitchells – were broken in the process.
Those that couldn't be leant against walls were used as paving slabs!
Now often overgrown with ivy, the awful state of the memorials in the Aldergate Garden of Rest is a disgrace to Tamworth.
For behind each memorial, whether the name be noteworthy or not, is the story of Tamworth.
Such was the esteem in which William Tempest was once held in the town, that a road on the Leys housing estate was named in his honour.
Today, hardly anyone has ever heard of him.
And although his bones rest silently in what is now an unmarked grave, William Tempest's smashed gravestone, along with so many others, speaks volumes about those whose lack of respect for our history, and disgraceful disrespect for our dead, heaps shame on this old town of ours.
Read more: http://www.tamworthherald.co.uk/shabby-way-treat-Mr-Tempest/story-13327602-detail/story.html#ixzz3Nm031oGe
Follow us: @tamworthherald on Twitter | tamworth.herald on Facebook
Everyone has heard of Twycross Zoo but how many people know that the zoo actually started at Hints just up the A5 from Mile Oak.
I came across a number of postcards the other day  from the zoo in the days when it was at Hints and the Chimps starred in the Brook Bond Tea adverts. The photographs are shown below allong with the following passage from the "Hints History" website. http://www.hints-village.com/history.html
                                                Hints Zoological Society
Molly Badham and Nathalie Evans had been rival pet shop owners in Sutton Coldfield, but they joined forces to buy a 3/4 acre plot in Hints Lane and build a bungalow to house both themselves and their menagerie of animals. Members of the public took great interest in the animals and Hints Zoological Society opened its doors in 1954, becoming a popular tourist attraction. Villagers who still live in Hints fondly remember the chimps who went on to become famous for their TV advertising.
The collection of animals and the number of visitors grew to the point where a larger site was necessary, and in the summer of 1962 the Society moved to the Twycross site where it remains to today. In 2003 Molly received an MBE for her contribution to the conservation of endangered species. She sadly passed away in 2007.
The gardens to the bungalow have been opened to the public during the annual Open Gardens and Flower Festival. For more information about Twycross today visit the Twycross web site.
Its a shame the quality isnt to good with some of these photographs.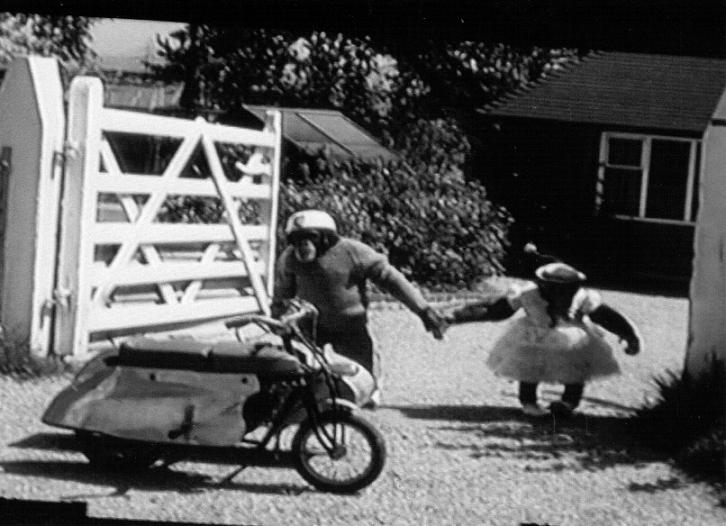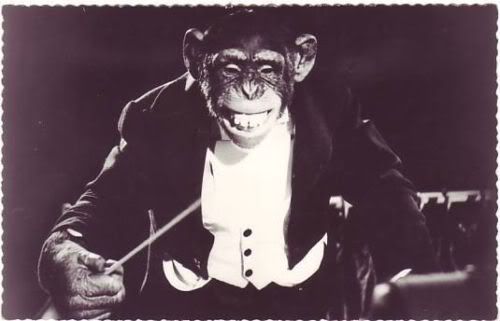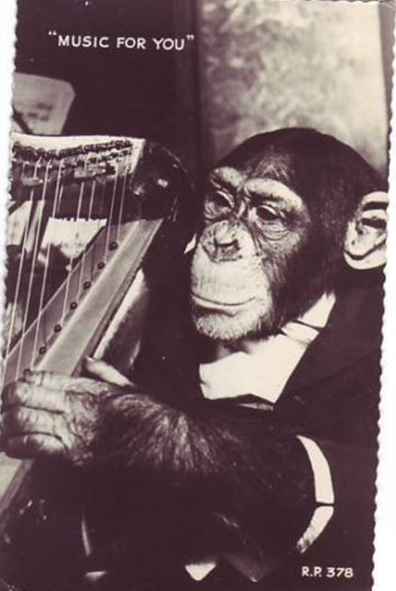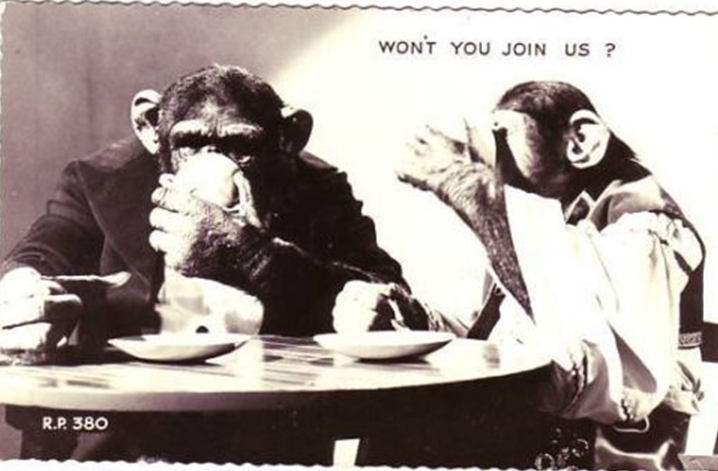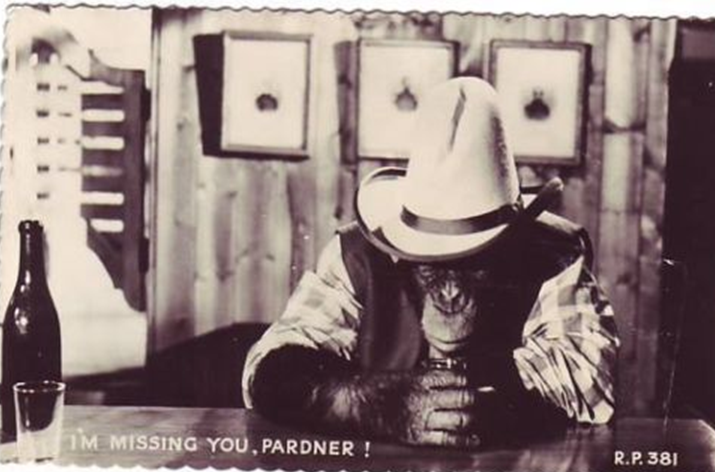 A rare pair of Gibbs & Canning Tamworth garden pedestals have turned up for sale on E-Bay. They are Art Nouveau water lily and bulrush design terracotta and date from the latter part of the 19th century.
These beutiful pedestals have a starting price of £1000 which puts them well out of My reach which is a shame as I am sure they would look really nice in My garden. Its a lot of money I know but there cannot be many of these wonderful pieces of Tamworths history left and it would be fantastic if they could come back to the town, what a shame that We still havent got a museum where items like this could be enjoyed by everyone.  
Made at the famous Gibbs and Canning factory at Glascote these items measure just over 26 inches high and the diameter across the top is 20 inches.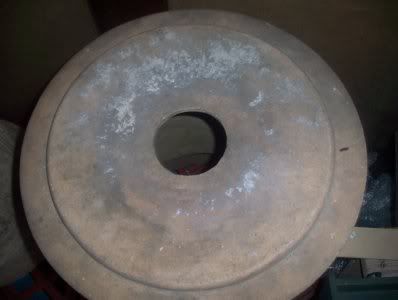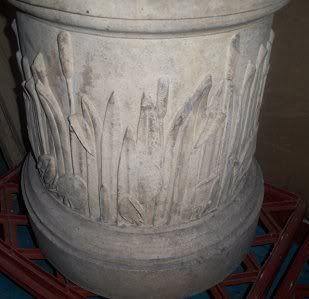 If anyone does happen to have the odd £1000 pounds to spare the E-bay link is here.
http://www.ebay.co.uk/itm/360395046757?ssPageName=STRK:MEWAX:IT&_trksid=p3984.m1423.l2649
A memorial has been built to honour a Staffordshire soldier who saved the lives of two comrades during the Charge of the Light Brigade.
Samuel Parkes of the 4th Light Dragoons was awarded the Victoria Cross for bravery for his actions during the Crimean War battle in 1854.
Villagers have raised £14,000 for an obelisk in Wigginton, near Tamworth, to remember him and others who fought.
His great, great, great nephew Peter Elkin said thanks to the village's efforts his relative would be remembered for generations to come.
Click here to see the monument
or
Click here for more information about Samuel Parkes
or
Visit Tamworths forgotten hero- Samuel Parkes V.C.
The memorial has been dedicated by the Countess of Wessex. The countess dedicated the obelisk on a visit to the county today, Wednesday 14th September.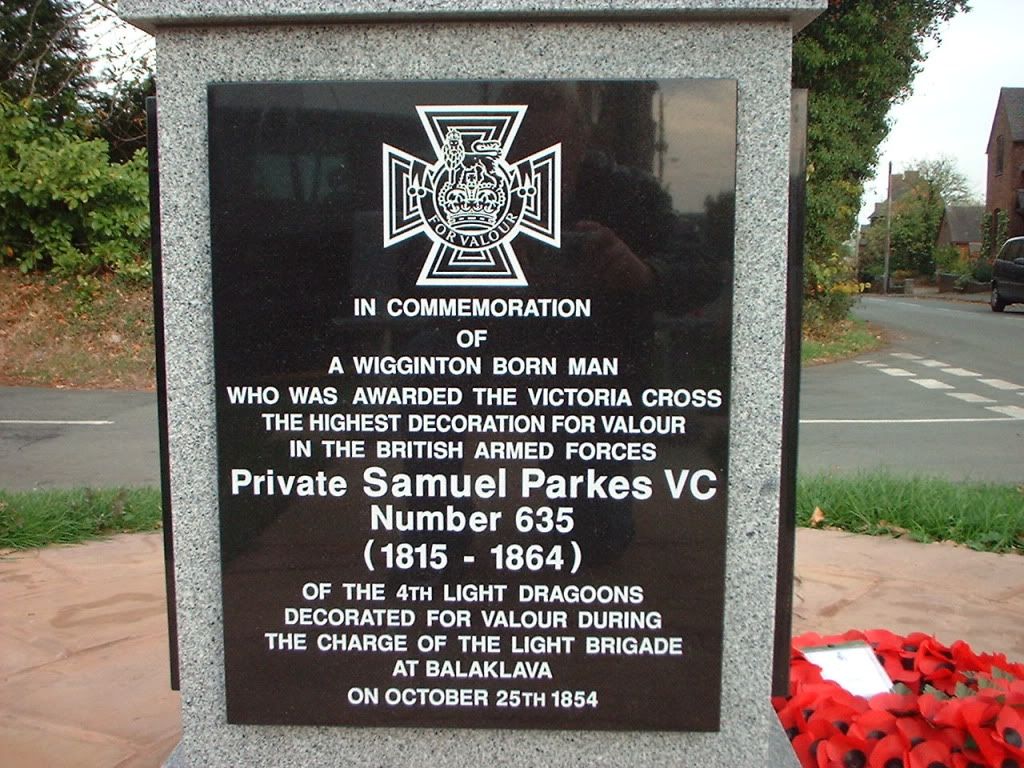 Another piece of Tamworths heritage is about to disappear and no one seems to have noticed. Hickson Brothers Crown Garage on Victoria Road is about to be redeveloped with six houses to be built on the site.
The garage was originally a first world war aircraft hanger which was re-assembled on the site where the brothers who started as haulage contractors ran luxury coaches and Charabancs,they later moved to a site opposite the Jolly Sailor inn (another piece of destroyed heritage) on the Bonehill Rd (now the Co-op garage).
This hanger must be virtually unique as very few hangers where built during the first world war and very few can have survived. It also pre-dates the R.A.F. being an ex Royal Flying Corps hanger.
Photo taken from "Around Tamworth in old photographs" by Richard Sulima.
The hanger does now appear to be fairly run down and I admit that I do not know how much of it is original but it does seem sad to just pull it down. I have contacted R.A.F. Cosford about it but they do not wish  acquire this building for the Museum so unless anyone can think of another museum who might be interested its fate seems certain.
The same view today.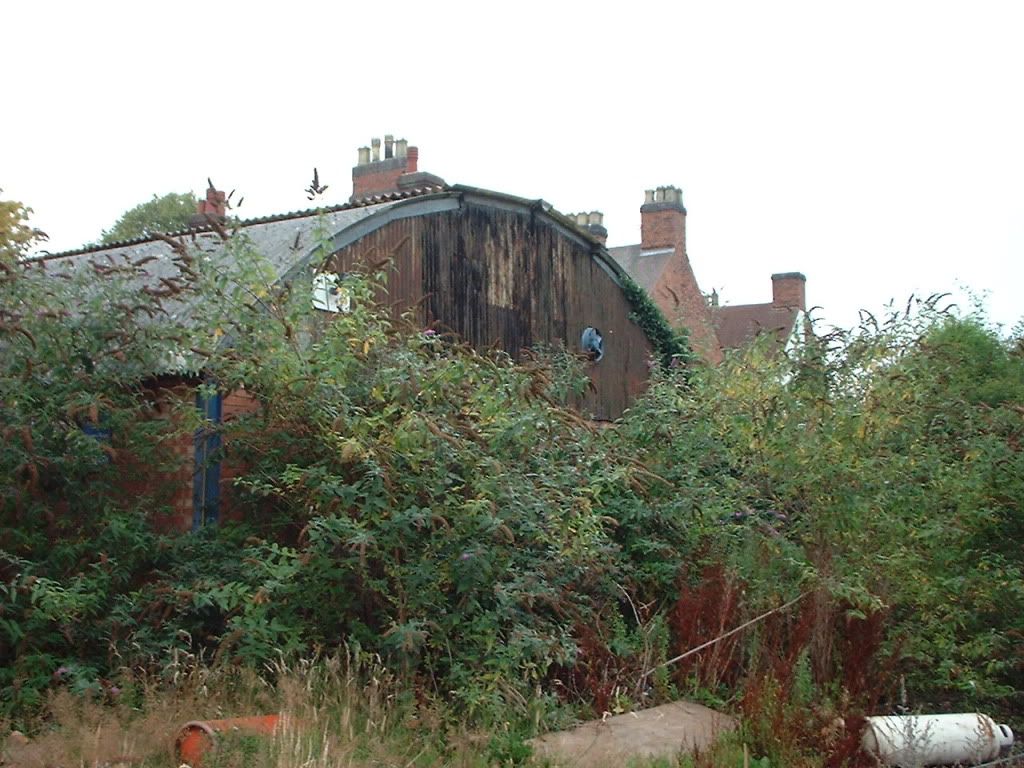 The vegitation makes it difficult to get a good photograph.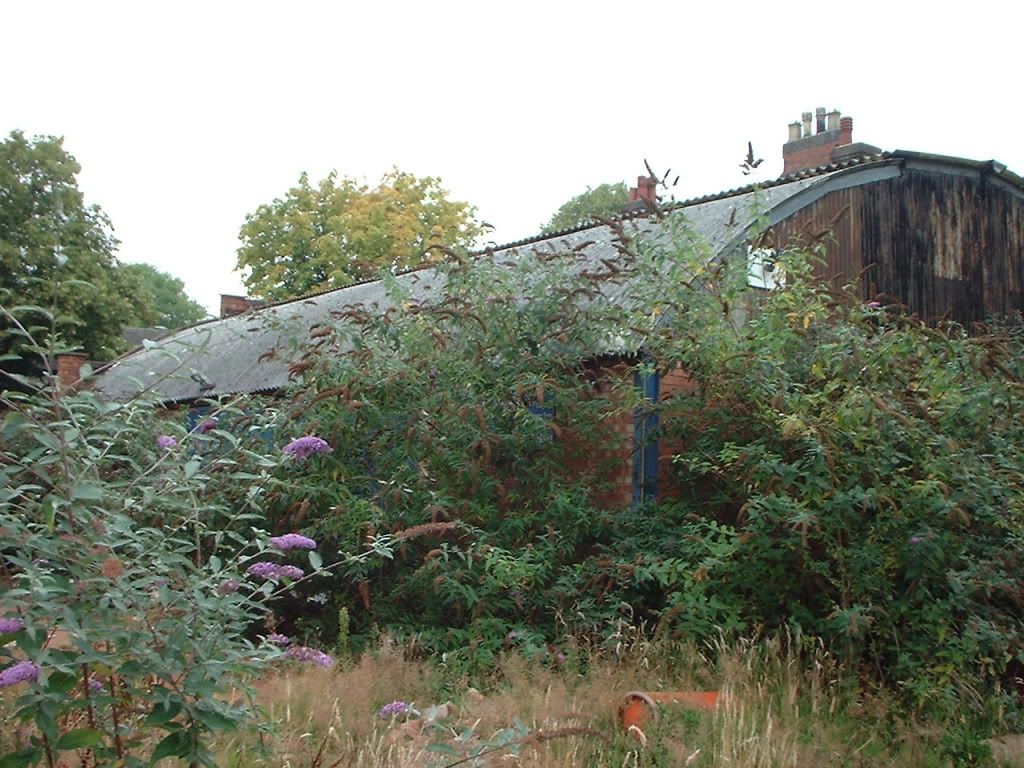 It will be such a shame to loose this building.
So please put Your thinking caps on and see if You can think of anyone who might save it.
Staffordshire County Council is marking Heritage Open Weekend with some fascinating free events for all the family.
On Saturday 10 September from 10am to 4pm, the Shire Hall Gallery will be inviting people to take a look around the historic courtroom, with the chance to meet representatives from Stafford Crown Court to learn more about crime and punishment past and present.
Mike Ford, a retired court artist will be on hand to talk about his career, show some of his work and even demonstrate his skills on some of the visitors. There will also be the chance to try on wigs and robes and a rare opportunity to sit in the judges chair.
Discover your heritage with a visit to County Buildings, the home of the county council, widely acknowledged to be one of the finest late Victorian buildings in Staffordshire. Completed in 1895, it was considered a very modern building for its day, containing a number of innovative ideas. These include being the first major Staffordshire building to have electric lighting and possibly the world's first air conditioning system, still in use today.
Visitors are invited to ascend the magnificent Victorian staircase and take a look inside the upper rooms, including the Oak Room, the White Room and of course the Council Chamber itself, said to have been inspired by the Palace of Versailles. The County Buildings are open on Saturday 10 September from 10am to 1pm and Sunday 11 September from 10am to 4pm.
Cabinet Member for Culture, Communities and Customers, Pat Corfield said: "Heritage Weekend in Stafford is a golden opportunity to learn more about important periods in our nation's history. All the events are free of charge and with access to buildings not usually open to the public, these events mean everyone can come along and get a real insight into our shared heritage."
For more information please telephone 01785 854458 or visit the National Heritage Open Days website
Tamworth will be throwing open the doors to its historic buildings completely free of charge during Heritage Open Days.
With more than 50 events, taking place over the weekend of September 10th and 11th there will be something for everyone. Tamworth has taken part in the national event for a number of years and has always attracted big crowds.
Visitors and residents will have the chance to see a different view of Tamworth as the library will be holding roof top tours. Tickets need to be booked in advance. The library will also be hosting a special Saxon exhibition.
Midland Red will provide a special bus service between Tamworth and Middleton Hall. Visitors to the hall will be able to see the Peel Collection and Police Museum. Advance bookings can be made at the TIC in Corporation Street.
St Editha's Church will be running guided tours and opening the double spiral staircase for visitors to enjoy panoramic views of Tamworth from the rooftop. The Town Hall and Mayor's parlour will be open to the public. There will be a Colin Grazier display during the weekend and Tamworth Football Club will also be hosting a special event.
And during this time, the Staffordshire Hoard will be on display at Tamworth Castle. Tickets for the timed tours need to be booked at the TIC.
Other events include; a look back at the history of the Assembly Rooms, talks from historians, the French market, craft markets, a heritage display by the Friends of Tamworth Castle, tea and cakes at the Alms Houses and the Central Methodist Church will be holding an exhibition.
For a full list of events taking place, either visit the TIC in Corporation Street or visit Tamworth Borough Council's website: www.tamworth.gov.uk. To help visitors make the most out of the Heritage Open Days, there is now a brand new iphone app that can be downloaded from iTunes. It has an interactive map and a whole host of information about Tamworth.

An exclusive new book charting Tamworth's important role in the Staffordshire Hoard's story is now on sale.
Stephen Pollington, a celebrated Anglo Saxon historian, lecturer and author, has written 'Tamworth, the Ancient Capital of Mercia'.
From bloody battles to religion and politics, the illustrated, 64-page book, looks at the history of Tamworth as the ancient capital of Mercia and charts the area's historical significance. It is on sale at the town's TIC and at Tamworth Castle, priced £5. Any profits will help to fund new and existing heritage projects.
'Tamworth, the ancient Capital of Merica' was commissioned by Tamworth Borough Council, and supported by Tamworth Lions Club, Rotary Club of Tamworth, Rotary Club of Tamworth Anker and Soroptimist International.
And according to author Stephen Pollington: "Tamworth was the capital of the kingdom of Mercia for many centuries. Its wealth and power were widely known across northern Europe in the 7th to 10th centuries.
"In July 2009 a fantastic hoard of gold, jewels and silver worthy of a king's treasury were found near the town. It comprised more than 1,000 pieces, all taken from the highest-ranking warrior equipment and probably from one warm. What is the connection of the Staffordshire Hoard to Tamworth who buried these reassures on a hillside above a major road and why?"
Stephen Pollington recently visited Tamworth to present 'The Dark Ages – the Myths Dispelled' at Tamworth Assembly Rooms.
The Staffordshire Hoard will be on display at Tamworth Castle for three weeks, between August 27th and September 18th. This is the last time people will be able to see this interpretation of the Hoard in the UK for some time as its next stop in Washington DC. A permanent Hoard display will remain at The Potteries Museum & Art Gallery and Birmingham Museum and Art Gallery.
It is free to see the exhibition – the last few tickets can be snapped up from Tamworth's Tourist Information Centre, Corporation Street.
Once again We have a Queens Head Mystery, this time it is to find out the identity of the two ladies working behind the bar in possibly the 1950s or 60s.
Looking at the photos We think they where taken in what is now the bar and the door on the right is where the entrance to the kitchen is now.
Does anyone know what the strange white thing with a bottle in it is in front of the beer pumps, Whatever happened to the tiled bar top and when did You last see Pewter Tankards hanging up in a pub.
If You have any idea who these two ladies are or what the strange white thing is please let us know so that We can tell everyone else.
                               Result
I would like to thank Frank Clark who contacted Me to identify the two ladies in the photographs He wrote
"The ladies in the photos. (the queens head mystery). the first photo is Millie Clark (my mother) the other photo is again Millie Clark and the landlady of the pub. Winifred Cook.
the box on the bar was for customers to put a donation in and then fill their cig. lighters with fluid in the bottle the photos taken about 1958/60."
Thanks for the information Frank.
Wow We have another "History Mystery" that I need Your help to solve. I recently came across a couple of photographs that where taken at "Weales" studio in Victoria Road and need any help I can to identify the two men in the photos as I believe that they are the real thing and not actors.
The first photograph shows a very smart gentleman (stating the obvious) who looks like the Mayor,but which Mayor and when was it taken?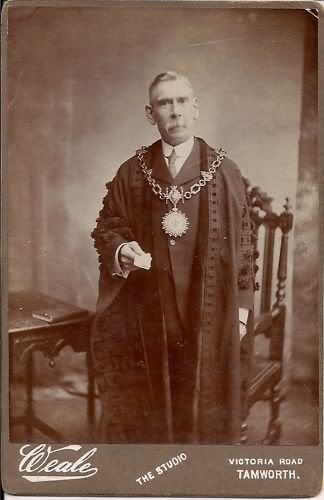 The second photograph is of a gentleman in a fireman's uniform which looks to posh to be that of an ordinary fireman an so may be Tamworth's fire chief possibly at the time when the fire engine was kept under the town hall.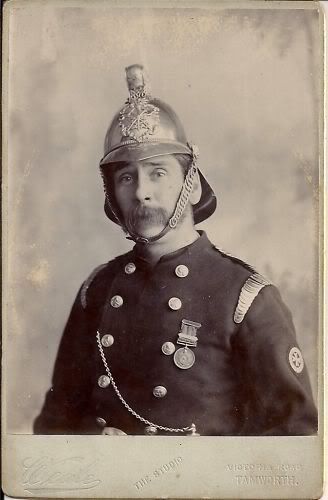 Any help to identify these two gentleman would be much appreciated and I will of course let everyone know the results.